Where will the Music Industry be in Five Years?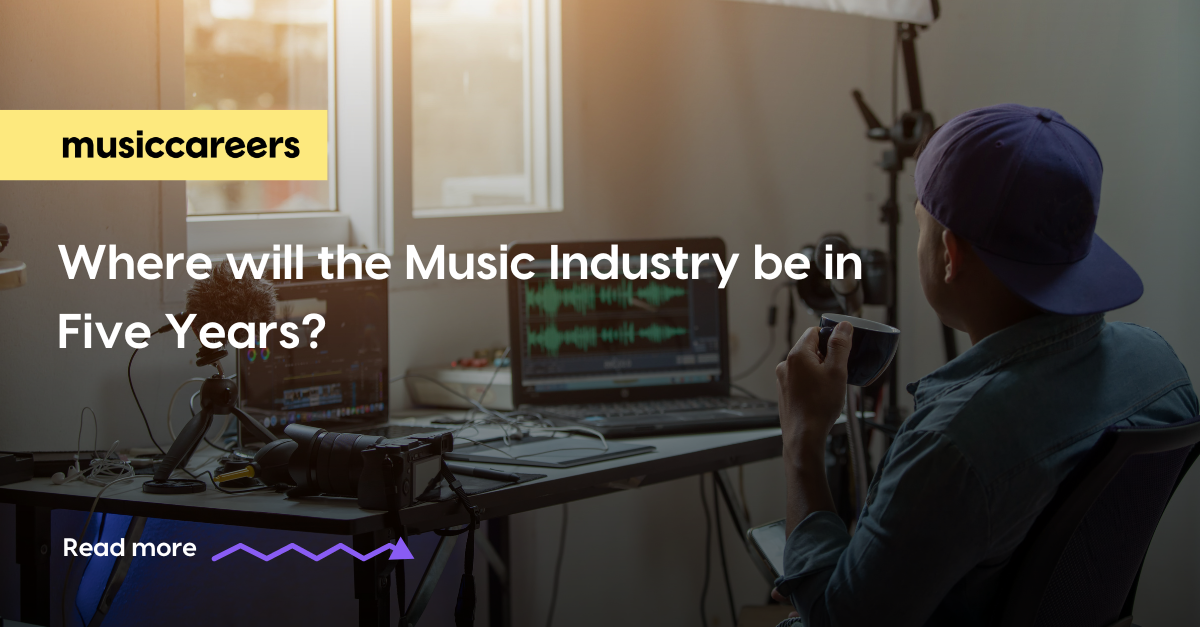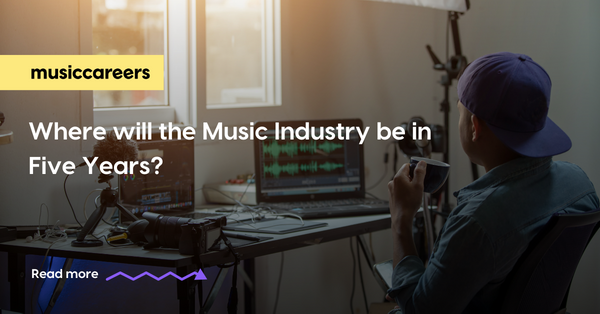 Music has changed a LOT in the previous years and decades. Vinyl records became cassette tapes, then CDs, then MP3 players, and now streaming apps. Almost all career musicians were associated with massive record labels in the 1990s, but since the advent of social media, many independent artists are cropping up, capitalizing on success from platforms like YouTube and TikTok. Some things will never change, such as artists and music fans loving to get together for live performances... Or will they? Even live performances can be performed over the internet these days. Which begs the question; Where is the music industry headed in the next five years?

Remote Work.... Works
Before 2020, very little work was performed remotely. Of course, the technology has existed for much longer. Video conferencing platform Skype, for instance, has been active since the early 2000s. However, Zoom's meteoric rise in ubiquity within business and academics during the global COVID 19 pandemic was legendary. It signaled mass adoption of the technology that allows us to accomplish remote work, which includes some of the work performed by musicians. Today, many musicians record music from their own home studios and send their files over to other collaborators to mix and master their work.
In the early 2020s, it has been all but necessary for any work that can be completed in a remote manner to be done as such. However, in the next five years, we can expect to see the amount of work performed remotely in the music industry to climb steadily. This includes, as mentioned before, remote recordings; but it also includes live streamed performances on platforms like YouTube and Twitch, as well as virtual concerts in other internet environments like the hit video game, Fortnite.
Obviously, the benefits of remote work in music hardly need an introduction. Artists and technicians get more flexibility with their work schedule, overhead costs can be lower, and many more people can collaborate together on large projects. However, the drawbacks are just as prevalent. For one, communication can be more difficult, leading to delays and misunderstandings. Likewise, technical issues such as connectivity, hardware failures, and service disruptions are increasingly detrimental as the reliance on complex technologies grows. And finally, for some artists, the lack of face-to-face interactions is enough to prefer hopping into the studio with the band!
Social Media and TikTok
Social Media has been a driving force in marketing for over a decade now, but its role in the music industry is strictly growing. TikTok's prevalence has only grown every year since 2019, and it's not showing signs of slowing down. TikTok has recently grown to over 1 Billion monthly active users, only behind Facebook, YouTube, Instagram, and two direct messaging platforms.
However, TikTok is not like the others. While Facebook tends to be a way to create small local communities or keep in touch with family and friends, YouTube tends to thrive on tutorials and visual topics, and Instagram is the premier photo sharing platform, TikTok has revolutionized the category with short, catchy, and viral clips. Many of these clips include some sort of music, sometimes with dancing overtop, other times using the trending sound to capitalize on the attention it may bring within the TikToker's particular niche.
A good example of the explosive nature of TikTok's virality is the case of Kate Bush's 'Running Up That Hill (A Deal with God)' in 2022. After being featured in Netflix Series, Stranger Things, it trended strongly on TikTok. This song from 1985 experienced an 8700% increase in total global Spotify streams within a week. I think that'd get just about anybody excited about the potential for their song to trend on the social media platform.
Of course, the other companies have followed suit to avoid squandering their lead, creating YouTube Shorts, and Facebook/Instagram Reels. However, this has hardly detracted from TikTok, and has simply provided more options for content creators to cross-post for larger reach. This capability also provides artists the strength to reach their desired audience with minimal input from powerful corporations, which feeds into the aspect of increasing independence. We'll touch on that after we cover streaming services.
Streaming Continues to Dominate
Another massive technological advancement affecting the music industry is on-demand streaming services like Spotify and Apple Music. According to MusicalPursuits.com, music streaming makes up 84% of the Music Industry's total revenue. The revenue from streaming is expected to grow by 9.8% per year, resulting in nearly double the streaming revenue in 2027 as in 2020. If that doesn't sound like a resounding tenure for streaming at the head of the music industry, I'm not sure what does.
Obviously streaming platforms have had positive and negative impacts on the industry at large. For one, artists make much less from streams as a similar fanbase would produce from record sales. On the other hand, the prevalence of streaming platforms like Spotify have made it easier for independent artists to reach a global and mass-market audience. The overhead of making vinyl records or CDs is high enough to force newer artists to side with record labels and music bureaucrats, a move that is gradually dwindling in necessity. Speaking of which, let's discuss the move to democratized and independent music production and distribution.
More and More Independent Artists
With the help of a low barrier of entry to create and distribute music, in part due to streaming services like Pandora, Soundcloud, and Spotify, as well as the massive reach available by using TikTok, Reels, and Shorts, some artists have been privileged enough to move away from the old-school method of making it big in the Music Industry by signing a record deal with a massive record label. Record labels have the resources to help artists create impactful work and reach their target audience (and much more in some cases). However, these contracts are often considered predatory, unfair, and sometimes even reprehensible.
Luckily, it appears that independence in the music industry will become more and more achievable as new technologies continue to shape the industry. Artificial intelligence, powerful social media algorithms, and tools like Spotify and Soundcloud that allow artists to publicize their music easily will make it easier and easier to push your music out to the world.
Conclusion
As with many other industries, remote work in music is only past its first large surge of adoption and will continue to grow. Streaming services are also poised to multiply in size, as is the most musically focused social media format, short-form video. All of this will likely amalgamate to create a more democratized and independent artist climate, but of course, this comes with its own set of challenges, some of which we've mentioned, and some that could be an article on their own. For instance, the moral implications of AI-generated music are a perplexing landscape that will likely result in economic losses and lawsuits in the coming years. However, it's important to adapt to changes in the industry and in technology to stay ahead of the curve and capitalize on strange and ever-changing business environments.
We also made an in-depth article for those who are just starting to work in the music industry that will definitely help you. Find out here The Good, The Bad, and The Ugly: Pros and Cons of the Music Industry.

__________________________________________________
Interested in launching a career in the music industry? Read our article about The Beginner's Guide to Working in Music.
The number of opportunities may surprise you, and you won't need to be an expert concert pianist to succeed. For a look over the latest recruitment opportunities, check out our jobs page today and check out our beginner's guide to working in music.